Natural Foods

Print This Page
Natural Nutritional & Tasty Foods/Beverages
The Goindis, in the pursuit of their Health and Nutrition Mission, have developed numerous oil/fat-free vegetarian nutritional and tasty foods using germinated/sprouted cereals and grains. The Mission is to practically evolve cheap and nutritious foods of acceptable taste for the suffering people in general and for the under-privileged and poor sections of society in particular. These foods, to name a few, include sweet/salted biscuits, cakes, dosas, sambar, pizzas, koftas, dalia, porridges, naan breads, palak and other pakoras, dahi vadas, potato chips, germinated wheat halwa, pinnies of geminated moong/chana and many more. They have also developed a new range of hot and cold beverages/sweets especially for the children, such as rose/amla sherbets, kulfi/ice-cream made from milk of seeds like that of melon. A special drink "kafita" prepared from wheat has the aroma, colour and taste of coffee but without the ill-effects of caffeine. Another unique drink which can be taken hot or cold is made from sesame seeds which gives a tea-like colour and is nutrient-rich in calcium, some vitamins and essential amino acids. They have also perfected a very tasty herbal tea powder using over two dozen ingredients.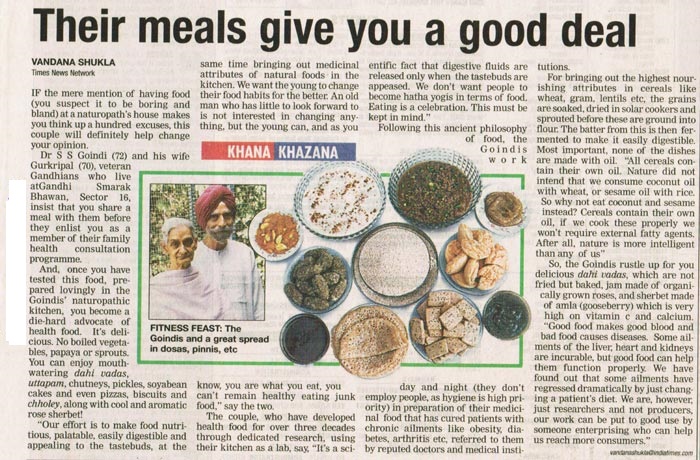 The Times of India dated 08-06-2002 : This article portrays coloured photographs of Goindis' tasty oil/fat-free preparations. Goindis say that their "effort is to make food nutritious, palatable,  easily digestible and appealing to the taste buds and at the same time bringing  out medicinal attributes of natural foods." They emphasise  that " you are what you eat, you can't remain healthy eating junk food." They also point out that  "Good food makes good blood and bad food causes diseases."
Franchising of Foods /Beverages
The above health-giving foods developed by the Goindis according to the Hippocratic doctrine of "Let Food be Thy Medicine", are not yet marketed on a large scale as the Trust is looking for a benevolent entrepreneur to start producing and franchising these on a commercial basis.